----------------------- 30 Jun 2011 -----------------------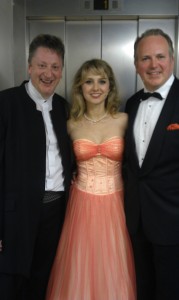 I had such fun in my debut with the BBC Scottish Symphony Orchestra on Sunday. The "Summer of Love" concert was the closing concert of the orchestra's season, and played to a sold-out City Hall under the fantastic baton of Stephen Bell.
The BBC SSO's Twitter feed noted, "Pamela Hay just blew the roof off with Bernstein's 'Glitter and be Gay' in the last concert of our Listen Here weekend! #stratosphericnotes"
You can hear the concert broadcast on BBC Radio Scotland this Sunday 3rd July at 17:05 pm, or listen online and click on "Listen Live." It will also be available for listening for a further 7 days on the BBC iPlayer. The broadcast, on Jamie MacDougall's "Classics Unwrapped" programme, will also feature an interview with me.